Information for 2020 Carnival coming soon!
Volunteer Orientation Night on
Wednesday, May 15, 2019
Location: 1400 Hamilton St., Cambridge, ON (the Kin Hall)
Time: 7:00 – 8:30 pm
We would ask that all volunteers and/or potential volunteers be present for this orientation night in order to:
learn about our club and how we help the community
learn about the carnival and what needs to be done
volunteer for specific days/times and activities
be placed on our insurance policy
Kin Kids
The Kin Carnival is a true family event – both for our patrons and our volunteers. A number of our Kin Kids can be found working alongside their parents and grandparents all weekend long.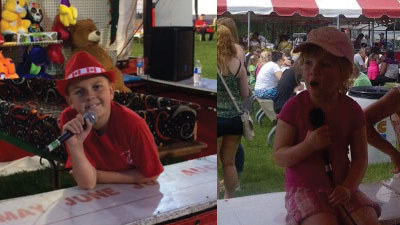 Filling high school volunteer hours
High School students who need to meet their volunteer hour requirements for school are welcome to join us as "carnival staff". We would be more than happy to sign off for any hours that they are able to work. Students could achieve their full 40 hours, or any part needed, of volunteerism by helping with set up of the Kin booths on Tuesday and Wednesday, acting as "carnies" in helping to run the booths during carnival and helping with tear down on Sunday night.
for more information email the Cambridge Kin at volunteer@prestonkin.ca